It's that time of year: Girl Scout cookie season! And you don't know who's more excited: 
Your scouts who want to knock it out of the park with record-breaking cookie sales. Or customers chomping at the bit to get their annual supply of Thin Mints.
To make sure your troop's fundraiser goes smoothly, you need a way to collect cookie money without funneling it through personal accounts. But there's no need to scout the internet for solutions. Use Braid Money Pools. 
It's the place for cookie money. It's also easy for everyone to use, from troop leaders to customers to Girl Scouts and their parents.
Give it a try. You'll see that it's as easy to manage cookie money with Braid as it is to eat your way through a sleeve of Thin Mints. 
Don't say we didn't warn you! 
Content:
2 ways to prepare for Girl Scout cookie season 
12 reasons Braid is a sweet solution for scout fundraising 
How to simplify cookie sales and collect cash-free payments with Pool Links
4 scout fundraising ideas to try with Braid  
3 more ways your troop can use Braid
2 ways to prepare for Girl Scout cookie season 🍪🥛
It's always a good time for Girl Scout cookies. But as the troop leader, you have a limited time to sell these coveted treats. Consider these two steps to prepare for everyone's favorite fundraiser.
1. What season is Girl Scout cookie season?
Girl Scout cookie season is recognized nationally from January through April. Because these delectable rounds have been sweetening American homes for over 100 years, people are ready to snag a box or two. 
Your job? Make it easy for them to purchase coconut-flecked Samoas or Peanut Butter Patties. That brings us to tip #2. 
2. Use a mobile payment solution
Most people don't carry cash, but they almost always have their phones and bank cards handy. Therefore, using a mobile payment solution for scout fundraising makes sense. 
Close to 4,000 Girl Scout troops already sell cookies with a mobile payment solution, and their sales have increased by 13 percent.
This year, use a mobile payment option, like Braid Money Pools. This way, everyone in your community can participate in this tasty fundraising tradition. 
12 reasons Braid is a sweet solution for scout fundraising 
Let us introduce you to Braid and a dozen reasons why you and your troop will love it. With Braid, you can: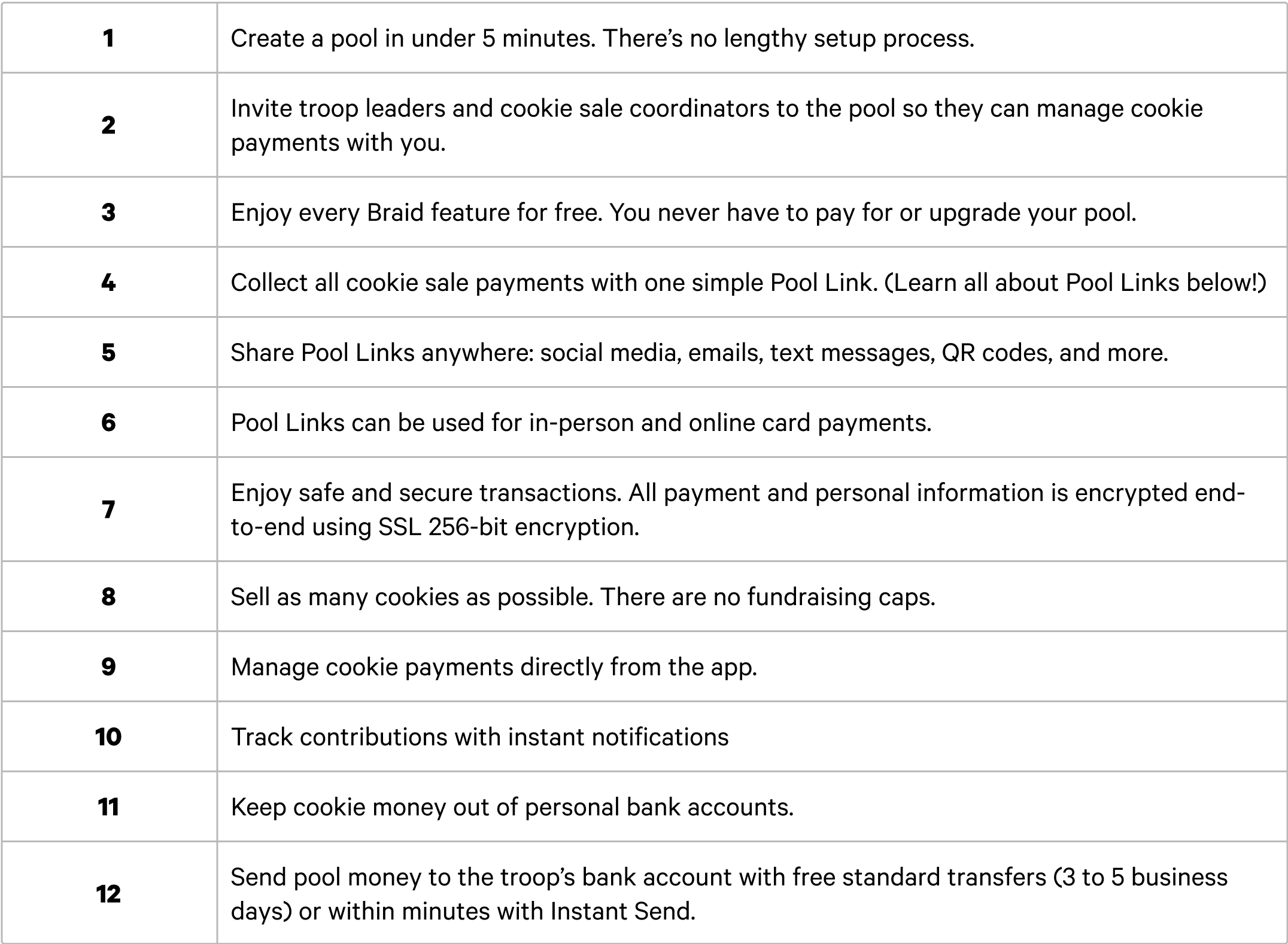 Set up a Braid Pool for your troop's cookie sales today. Start here. 
Still have questions about mobile payments? Let's take a look. 
Can my Girl Scout troop use Venmo?
Please check your council's policies. In some cases, Venmo is not permitted; if it is, it may not be your most convenient option. 
For example, every customer needs a Venmo account to purchase cookies. But not everyone has one, and this negatively affects sales. 
On Braid, customers don't need to sign up to contribute to the Pool. 
Additionally, when you use Venmo, you still have to funnel cookie money into a personal bank account before sending it to the troop's account. 
You run into the same inconveniences with PayPal. Not to mention fees on both debit and credit card transactions.
Can Girl Scouts use Zelle? 
We recommend checking your council's policies to know for sure. But similar to Venmo and PayPal, Zelle doesn't eliminate the most significant inconvenience around cookie sales: funneling money in and out of personal accounts. 
On the other hand, Braid keeps cookie money in a dedicated place, and every customer can purchase cookies with the Pool Link even if they don't have a Braid account. Plus, Braid makes it easy for customers to pay with both credit and debit card. Take a look. 
How to simplify cookie sales and collect cash-free payments with Pool Links
At this point, you know Braid is a sweet solution for scout fundraising. But you're hungry for more. Here's a closer look at the key features that simplify cookie sales and fundraising campaigns. 
What are Pool Links?
Each Braid Pool has a unique Pool Link. 
You can customize your Pool Link. For example, braid.co/p/Buffalo-GirlScout-Cookie-Sale.
Scouts, along with their family and friends, can share Pool Links everywhere: eBlasts, newsletters, websites, social media accounts, text messages, QR codes, and more. 

Can you pay with card for Girl Scout Cookies?
Pool Links are great because they allow everyone to buy cookies with their debit or credit cards even if they don't have a Braid account. Every payment goes straight to your pool. And no one has to worry about cash deposits, missing checks, or money transfers between personal and troop bank accounts. 
How to create a more persuasive Pool Link
It's hard to find someone who doesn't like Girl Scout cookies. But not everyone knows why they're important to your troop.
Consider these points when writing your Pool Link text. Each one piques greater interest and inspires customers to participate in your fundraiser:
Share your fundraising goal.
Remind people that Girl Scouts learn empowering financial skills during cookie fundraisers.
Tell people how cookie sales pay for formative Girl Scout experiences, like community service, field trips, and more.
Mention that behind every box is a girl learning how to be a leader.
Explain how cookie sales help scouts earn their Cookie Business, Financial Literacy, or Entrepreneurship Badges.

How to keep track of Girl Scout cookie sales?
Once everyone starts sharing the Pool Link, you can easily monitor cookie payments from the Braid app. You can also turn on instant notifications to see real-time contributions and check the pool balance anytime. 
How to send cookie money to the Girl Scout troop's account?
Sending cookie money to the troop's bank account is a piece of cake. And with several options, you get to choose which one works best for you. 
Use Direct Deposit or Bill Pay to send funds within 3 to 5 business days. It's free. 
Use Instant Send to move funds within minutes for a small fee. 
Get ready for Girl Scout cookie season with Braid Pools. Start here.
4 scout fundraising ideas to try with Braid 
1. Pick a convenient location
Customers are ready to grab their cookie box(es). Choose a good location so they can. Take a look:
Set up in-person cookie booths in approved public spaces: Top spots include farmer's markets, sporting events, local retailers, restaurants, etc. 
Braid tip: Generate a QR code for your Pool Link. People scan and pay, and everyone enjoys a cash-free, contactless transaction. 

2. Go door-to-door
This old-fashioned approach can be an excellent way for scouts to build confidence and sharpen entrepreneurial skills. 
How to stay safe and have fun: Check local Covid recommendations, dress for the weather, and accompany your scouts through the neighborhood.
Braid tip: Generate a QR code for your Pool Link. Use it to accept in-person payments. Leave QR code flyers with customers if they prefer to purchase cookies later. 

3. Bring scout fundraising to the office
Family and friends can help Girl Scouts reach fundraising goals by inviting coworkers to buy a box or two.  
Workplace tip: Sales are usually permitted between coworkers but not between employees and customers. Please check your office policies.
Braid tip: Share the troop's Pool Link in text messages, emails, or as printed QR codes in the break room. 

4. Set up virtual cookie booths
Between busy schedules and health precautions, it isn't always feasible to go door-to-door or set up cookie booths. So, why not set up a virtual cookie booth instead? 
Virtual cookie sales tip: No matter where you host your virtual cookie sale, always ask: "What's your favorite girl scout cookie?" This attention-grabbing question doesn't only engage people. According to author and entrepreneur Seth Godin, it transforms the scout from "supplicant to valued supplier" and supports her in reaching her goal. 
Braid tip: Share your Pool Link in social media posts and captions. Embed the link on webpages or blog posts, too. 
3 more ways your troop can use Braid
With Braid, money management feels light and stress-free. You'll probably want to keep using it when cookie season is over. The good news is you can. Here are three more unique ways to simplify troop money with Braid.
1. Collect annual Girl Scout dues
Text or email the Pool Link to parents so they can conveniently pay dues on time. You can download a CSV of each pool's transactions if you need to import pool transactions into your accounting books or track them in a spreadsheet.
2. In-person product sale payments
Selling cookies might be your most significant fundraiser of the year, but you may have other campaigns, too.
Use your Braid Pool to collect payments for in-person product sales, charitable drives, and more. Customize the Pool Link to fit every occasion. 
3. Fund field trips, sports clinics, environmental stewardship, and more
Braid isn't just a fantastic place to collect money. It's also a flexible way to manage and spend troop funds.
You can easily send pool money to the troop's bank account to pay for upcoming trips, outings, or supplies.
And stay tuned: Braid will soon offer a free debit card to spend pool funds directly. This will make paying for tickets, reservations, or supplies effortless. 
With Braid, everyone gets to enjoy Girl Scout cookie season. Troop leaders can manage cookie money in one place. Scouts and their families can easily secure payments with one simple Pool Link. And customers can buy their favorite cookies with one quick mobile payment.