Over the last several months, we've been working on some big projects at Braid, including transitioning to our new bank, instant transfers to bank accounts, recurring contributions, and other improvements to pooling. Whether you're new to Braid or a long-time user, we're excited to introduce you to the New Braid, which launches January 10, 2023.
So, what's new?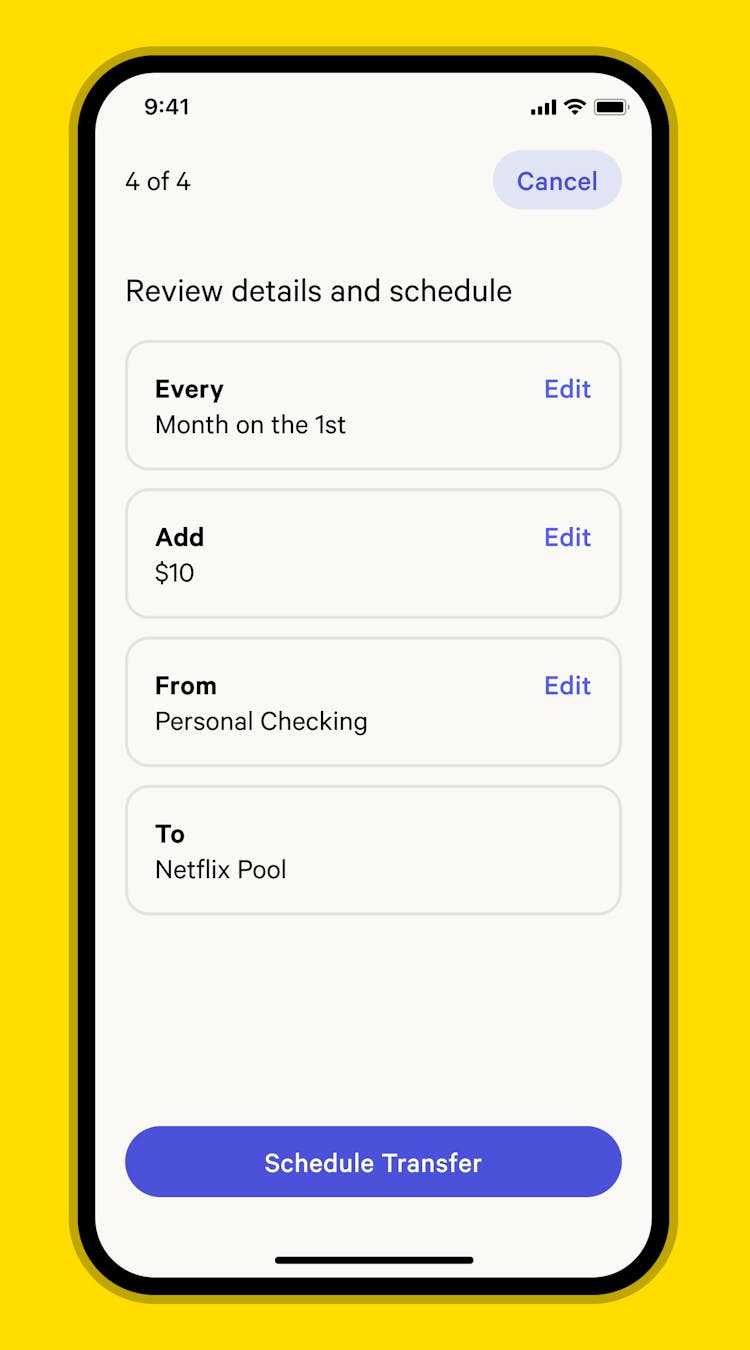 Keep your pool funded with Recurring Add $ 
With Recurring Add $, now you can schedule recurring contributions to a pool! Choose a weekly or monthly frequency and the amount that you'd like to add. You can have one Recurring Add per pool member, per pool.
Recurring Add $ is great for so many use-cases:
Rent - Tired of contributing the same dollar amount every month to your Apartment Pool? Or reminding your roommates to contribute their share of the rent each month? Now you and your roommates can set automatic deposits for the first of the month or on payday. Same goes for utilities, grocery funds, etc.
Membership Dues - Do you have a club that you need to send out a monthly reminder to collect dues? Now you can send one email to club members with instructions on how to set up recurring contributions to your pool.
Savings Plans - Perhaps you're saving for an upcoming vacation, a wedding, for a larger item or gift. Set a recurring contribution weekly or monthly to reach your savings goals! It's painless and easy.
Envelope Budgeting - Recurring Add $ is the perfect way to top up your pool each month to stay on budget. Set up recurring contributions to as many pools as you'd like - one for groceries, entertainment, gas, shopping, eating out, car loan, and so on. (Always feel free to request additional pools in support!) Set different deposit amounts for each pool and adjust whenever needed. If you're sharing expenses with someone else, they can also set up their own Recurring Add $ to deposit to your pool.

How to set up your Recurring Add $ 
Setting up Recurring Add $ is simple, easy and free. For a step-by-step guide, see our Help Guide. 
Send Money to your Bank Account in Minutes with Instant Send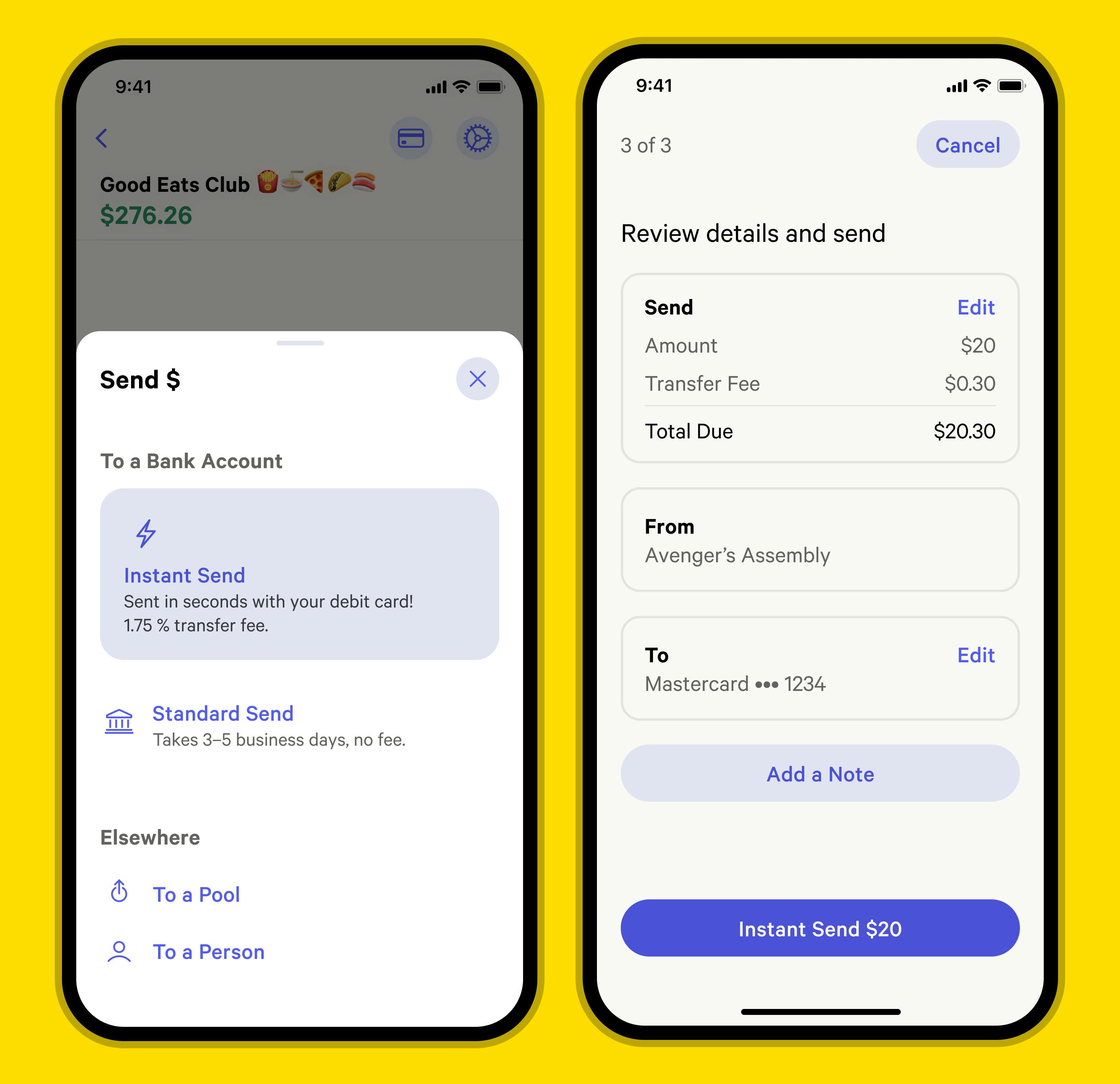 Standard Send, although free, typically takes 3-5 business days to transfer back to your bank account. With Instant Send, you can send money within minutes for a small convenience fee.
Find Instant Send under the Transfer $ menu in each of your pools.
CSV Downloads for Each Pool
Need to upload your monthly transactions to your accounting books? Or just need to keep track of your Pool Link contributions in a spreadsheet? You asked and we listened. Now you can download a CSV of each pool's transactions!
What's Staying the Same  
Pooling
Our mission still remains the same - to be the best place to pool money. The foundation of pooling in-app looks and works the same as it did last year. If you had pools prior to the transition, you'll find all of your account info is preserved so you can pick up where you left off. Before getting back on Braid, be sure to update your Braid app to the latest version. 
Pool Links
When we introduced Pool Links a year ago, we wanted to create a dead simple, easy way to pool money.. With Pool Links, you can collect money from anyone, and they don't need to install the app or have an account. That all remains the same, but what you might have not noticed is that we introduced credit cards as a payment option early last summer. 
No Per Contribution Fees
So many financial services are fees on fees on fees. At Braid, we work hard to keep our fees minimal and upfront. Braid will continue to be free to use and we do not take a percentage of the money you collect, nor do we charge per contribution fees to organizers. What you collect is yours to keep. We charge a 3% fee to contributors for credit card contributions and a 1.75% fee for Instant Send transfers, that's it. 
Fee Breakdown
Bank Transfers - No fees
Direct Deposits - No fees
For Pool Links
Debit Cards Contributions- No fees
Instant Send - 1.75% transaction fee
Credit Card Contributions - 3% transaction fee, paid by the contributor
Coming Soon 
Debit Cards
We're working with a new card network to overhaul our entire debit card experience. We are spending some extra time to make sure it's great and are aiming to have debit cards available soon. For updates, you're welcome to join the debit card waitlist which can be found at the bottom of your home screen in your Braid App. 
We are always listening and scheming on ways we can improve Braid. If there is anything that would improve Braid for you and your pool members, we welcome your feedback. Email us at hello@braid.co
Happy Pooling!