When you see people (or animals) in need you feel inspired to take action by raising awareness and funds.
Fortunately, there are lots of awesome people who want to make a difference, too. But they need a platform that makes donating easy.
Even the most generous people will feel deterred if they have to download an app or create an account before they can donate.
To keep contributions flowing, you need a platform that's user-friendly for donors and for you.   
And this article is here to help whether you've been raising money for years or you just kicked off your first campaign.
Keep reading to discover:
The positive effects of charitable giving and current giving trends
5 online fundraising platforms
The best way to collect donations online
Tips to set up a free Braid Money Pool and encourage charitable giving
Donation statistics in the United States
Data suggests you're in the right country if you want to raise money.
Lending Tree reports that Americans give seven times more than their European counterparts, and the numbers paint a generous picture. 
Despite the global pandemic, donations reached $447 billion in 2020, making it a record-breaking year for charitable giving. In fact, Americans donated 5.1% more in 2020 than in 2019.
The giving trend was still going strong in 2021; 56% of Americans donated to charity that year. 
The positive effects of charitable giving
Generosity is popular from sea to shining sea. But why is that?
Harvard research suggests that spending money on other people increases feelings of happiness. And this study found that charitable giving releases feel-good neurochemicals, like oxytocin and endorphins. 
Some have dubbed this neurochemical cocktail the "helper's high." And it's no wonder giving makes people feel good:
It's a tangible way to make a difference
It allows people to get involved in something bigger than themselves
It doesn't just empower the recipient. It empowers the giver, too
Despite the positive effects of charitable giving, it's easy for people to forget or get distracted; there's so much vying for their attention. 
That's why it's imperative for you to give them a seamless way to make donations.
Start your free Braid money pool and make it easy for people to donate today!
Top 10 giving trends to consider 
If you're looking for the best way to collect donations online, you probably have your cause picked out already. The following graph can show you where it fits in with current giving trends.
If you're still on the fence and unsure where to focus your attention, this graph may provide some direction. It illustrates the initiatives that tend to receive the most donations. Could one of them be right for you?
2021 year-over-year online giving trends*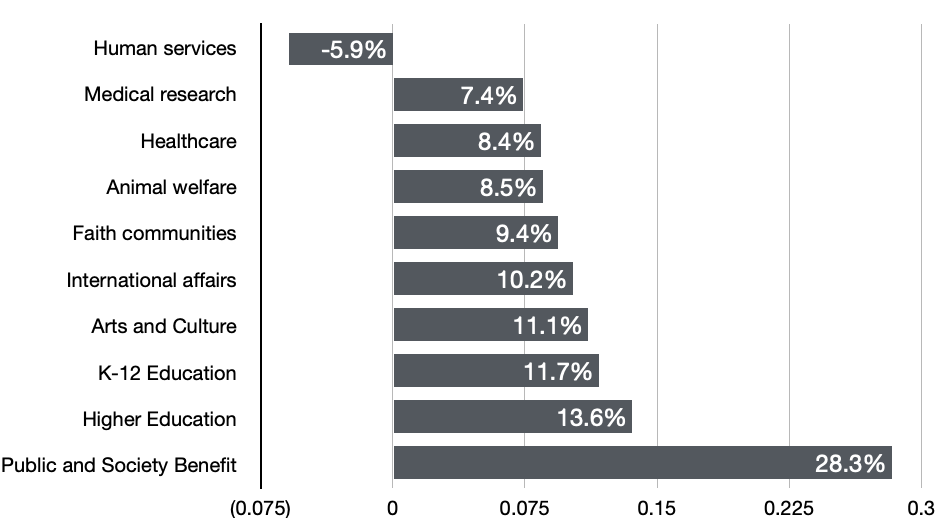 Depending on where your charity fits in with current giving trends, you may conclude that people will readily donate. Or, it might indicate that you might need to focus on outreach and awareness to increase donations.
5 online fundraising platforms
Do you live in a stingy or generous state? It doesn't really matter because online platforms are becoming more popular. 
2020 alone saw a 20% increase in online giving. This means you can collect donations from anyone anywhere. 
People can contribute from the generous state of Utah where 10.6% of residents made donations in 2021, or New Hampshire, where only 2.5% of residents did. 
But which online fundraising platform should you use?
This section compares five of them, including the popular site, GoFundMe.  
But what's better than GoFundMe? What's free? What's the best way to collect online donations?
We like your savvy questions and this section answers them for you. 
1. Braid
According to Blackbaud Institute, 28% of online contributions came from a mobile device in 2021. This percentage has grown steadily from 2014 when mobile devices made up just 9% of online donations.  
This makes Braid an obvious choice for easy online donations. Here's why, along with seven ways Braid benefits you, your donors, and the beneficiary: 
You can do everything from your phone: Braid is a mobile app that offers free money pools to collect, manage, and spend money with people in your charity or organization. Braid's lightweight design makes it easy for on-the-go management.
It's quick: Setting up your pool takes minutes, allowing you to tackle other elements of your fundraiser, like outreach, bookkeeping, etc.
People donate from their phones: Braid allows people to donate quickly and seamlessly from their phones. They don't need a Braid account. Just the pool link. 
It's free to use: Braid is 100% free for everyone to use and contribute with a debit card. There is a 3% processing fee for donations made with credit cards that gets charged to the contributor. It doesn't cost anything to set up or run. 
More than a collection page: Braid is a full pool where you can collect, manage and spend money with your team. You never have to transfer donations to a personal bank account in order to use them. 
Donate directly from your pool: Every pool comes with a free digital debit card and account and routing number. You can use it to send money directly from your pool to the organization, charity, etc.

2. GoFundMe
In addition to being a popular place to collect donations online, GoFundMe allows people to share photos or videos to better tell their stories. 
It's a great perk, but the following features may be a drawback for you: 
Lengthy setup process: Because GoFundMe has a strong storytelling component, setting up the collection page is a lengthy, tedious process.
Only a collection page: Once you collect donations into your GoFundMe account, you cannot spend them until the platform transfers them to your bank account.
Delayed access to donations: It usually takes 2-5 business days for bank transfers to arrive, slowing down momentum and making the beneficiary wait. 
There are fees: Each donation for an individual or business fundraiser has a 2.9% fee + 0.30 USD. Charity fundraisers have a smaller fee (2.2%). All fees are taken from the donation, leaving the beneficiary with less.

Collect donations online with a free Braid Money Pool today. Click here to get started
3. PayPal
Yes, you can receive donations through PayPal, but the buck stops there. 
Like GoFundMe, PayPal acts as a collection page with drawbacks. Here are two:
PayPal fees: Each donation incurs a 2.9% + 0.30 USD fee. For eligible nonprofits, it drops to 2.2% + 0.30 USD. As with GoFundMe, the beneficiaries, not the donors, incur fees. 
People must donate with PayPal accounts: PayPal still requires everyone to have a PayPal account in order to make a donation. This may deter potential donors from contributing if they don't have an account. 
4. Venmo
You can use Venmo for donations. But this peer-to-peer payment platform isn't ideal for charitable giving.
Only a money transfer app: Venmo allows people to send and receive money. Therefore, you can collect money into your Venmo account, but that's where Venmo's support stops.
Donors must have a Venmo account to donate: Venmo requires everyone to have an account. If your donors don't have one, they may lose interest in contributing.  
Fees for credit card donations: People incur a 3% fee if they donate using their credit cards. 
Delayed access to funds: Venmo transfers money to your bank account for free, but it takes 1-3 business days. You can also process an instant transfer, but a 1.5% fee gets deducted from the transfer amount.
5. Zelle
Zelle is a popular peer-to-peer money mobile app. And while it facilitates money transfers, like PayPal and Venmo, it doesn't offer much else.
Donations must go directly into your personal bank account: Zelle works by sending money from bank account to bank account. Therefore, donation funds inevitably mix with personal funds. This gets confusing and messy, but it's your only option with Zelle.
Not a collection page: Zelle doesn't have the option to maintain a cash balance. The money simply transfers from the donor's bank account to yours. 
There is no debit card: Unlike Braid's free debit card feature, which allows you to spend directly from your money pool, Zelle requires you to transfer money into your personal bank account in order to use it.
How do I collect donations online?
Whether you're collecting donations for refugee relief, animal welfare, or your local community outreach program, you want to knock your fundraising goal out of the park. And you can!
Use the following 7 tips to reach - and even exceed - your goal. 
1. Start your free Braid Money Pool
You can set up your money pool in a couple of minutes. And with a few quick steps, you can customize your pool link and provide details about your fundraiser. 
There, you can inform and update donors about the fundraiser, charity, or cause. 
Remember, it's free to set up and run your pool. There are no minimum balances, fundraising limits, or pool deadlines.
Click here to set up your pool. You'll be up and running in a matter of minutes. 
2. Invite the fundraising team to join your pool
Braid isn't just a collection platform or a peer-to-peer money transfer app. 
It's a shared pool where you can collect, manage, and spend money together with other people on your team. 
Who else is managing donations with you? Send them an invite link so they can download Braid and join the pool with you.
As pool admin, set permissions for who can view transactions, spend with the free Braid debit card, invite other people to the pool, and more. 
3. Share your donation link 
Once your pool is set up, share your pool link and start collecting donations immediately. 
You can share the pool link via text message, across social media platforms, inside email newsletters, or embedded in your website. 
Donors can use this link to donate to the pool. And unlike PayPal, Venmo, or Zelle, they do not need a Braid account to donate. Just their debit card.
4. Tell your story 
If you want to increase donations, get vulnerable and tell your story. 
Why are you fundraising for this specific individual, charity, or business? What problem do you want to fix? What plans do you have to make a difference? 
Open up and get personal. When you do:
People feel emotionally connected to your cause
Donors can participate in something bigger than themselves, and
They have an opportunity to tap into their entrepreneurial spirit 

5. Focus on communication and transparency 
Remember to keep donors in the loop. 
Let them know how much you've raised and how their dollars are being spent. Show them your progress and how you're bringing about change.
Don't be afraid to share setbacks, too. Rather than scare people away, it may inspire them to donate and spread the word. 
Use your social media accounts, website, or email newsletters to send relevant updates to your community. 
Ready to collect donations online for free? Set up your Braid account here. 
6. Encourage donations ending in 4, 7 or 9
Ever wonder why charities ask for recurring payments of $19 per month? It's based on a psychological "trick" that you might want to try. 
Prices ending in 4, 7, and 9 seem cheaper and more affordable than other numbers. 
Why not suggest donations in the amounts of $14, $17, or $19? It might encourage more people to give.
7. Use social media to drive donations 
Don't forget to post about the fundraiser on your social media accounts, like Facebook or Instagram. 
3 in 10 people say they donate to causes they found while scrolling. 
Remember to share your pool link so people donate before they scroll away.
8. Track contributions in your Braid Pool
Braid is a dedicated pool for donations. Money will remain in the pool for as long as necessary, and you never have to donations with your personal funds. 
Braid Pools make it easy to keep track of both donations and donors so you can thank them later. 
9. Give to the charity or individual directly from the pool
It's incredibly easy to give your collected donations to the beneficiary. 
If your fundraiser is for an individual, you can invite them to download the app and join the pool as a member. After downloading the app, they can easily access their funds in a few quick steps. Otherwise, you will have to transfer the funds to yourself and figure out the best way to send it to them.
If you were fundraising for a charity, business, or organization, you can make a payment on their website using the free digital Braid debit card.
Because there are no transaction or service fees, every donation dollar goes directly to the beneficiary. 
10. Thank your donors
Your donors probably aren't waiting for a pat on the back. But always remember to thank them; their generosity makes a big impact. 
As donation manager, show them your gratitude on behalf of the recipient. 
Along with your words of thanks, share pictures, videos, and stories about how their contributions made a difference and will continue to benefit the recipient. 
Reach your fundraiser goal and make a big impact with Braid Money Pools. Set up your first pool here.
Are you ready to witness the generous spirit of people all over the country? As the donations fill your pool, you'll love the fact that Braid is more than just a collection page.
Braid Pools are where you and your team can manage and disperse donations together. They just might be the best way to collect donations online.